Yuck Box is a Series 5 School trash. He's a lunch box stuffed full of junk.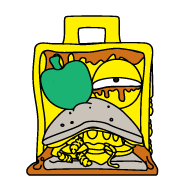 Info
Colors, Rarity and Number: Yellow #801 Rare, Orange #823 Rare, and Green #810 Rare.
Finish: Classic
Bio
Yuck Box does not have a bio on the official Trash Pack website.
Trivia
There is a trash town location called "Unlucky Lunch Box" that is pretty similar to Yuck Box.