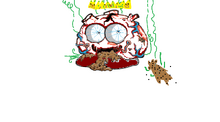 My favorite pages
Kings Of The Scrap Heap
Unboxings!
Things I Love/Like
Video Games
Minecraft, Spore, The Elder Scrolls.
Trashies (Of Course)
Nintendo
Cats/Kittens
Lizards
King Of The Hill
Youtube
Puns
Suits & Ties (Not Relating To The Song In Any Way)
Slugs
Pigs
DR. Who
Adventure Time,
Regular Show
'MERICA!
Things I Don't Like/Hate
Bullies
Justin Beaver (I Know It's Bieber)
Salad Fingers (Not scared of him at all anymore.)
Evil Things
Being Scared
Being Interupted
Family Guy (Too Overrated, I Don't Hate It, I Just Don't Enjoy It)
Trolls That Make You Mad, Make You Curse, And Get You Grounded! UGHH I HATE THIS ONE THE MOST!!!
Counterfiet Video Game That Are Flimsy.
Things That Scare Me
Being Trapped In A Sinking Submarine
Roaches
Demons
Anything Unrealisticly Unnatural
Serial Killers
Tourture
Horror Movies
Animals Suffering
Animals Dying
Friends
Supereggy
Superace
Alerdew
Dani
Creepermanrules
Alienmonsterkid
Maybe You!
Videogame Usernames
Minecraft: ilovegnomes1
Spore: Creepley
Steam: Creepley
Wizards101: John Sand Flame
Pirates101: Sly Blaze Kidd
Favorite Things To Do With Trashies
You would think Trashies + Trampoline = lost Trashies, WRONG!!! Trashies + Trampoline = Trasholine Fun!!!!
Do like supereggy5's garbage force, but with my own stories & Trashies.
Run over other Trashies (Of mine) with my Metallic Garbage Truck.
Make my Trashies fight each other.
Tossing them into things (Least Favorite Because I have lost a lot through that game)
Making my team of my garbage patrol (I Call It "Kings Of The Scrap Heap") I like to do BOSS FIGHTS!!! with Skummy Skull, that is.
Squishing My Brand New Trashies!
Opening Trashies
My Favorite Trashies!
Series 1
The Grubz
10 * Awful Pie 9 * Smelly Fish 8 * Dump-ling 7 * Garbage Egg 6 * Stench Fries 5 * Foul Nugget 4 * Slop Corn 3 * Rotten Apple 2 * Putrid Pizza
1 * Grott Dog
Bin-sects
5 * Blow Fly 4 * Trash-A-Pillar 3 * Bin Scab Beetle 2 * Mucky Maggot
1 * Disenfect-Ant (I Don't Really Have A Favorite)
Hard Rubbish
7 * Toxic Trash Rim 6 * Loo Paper 5 * Rott Box 4 * Bashed Bottle 3 * Snotten 2 * Puke Pod
1 * Scummy Screen
Bin Critters
4 * El-Trasho 3 * Scabby Cat 2 * Trash Rat
1 * Bin Pig
Bin-Fections
3 * Chicky Pox 2 * Flesh Eating Virus 1 * Flu Virus (Not in any particular order)
Bin Monsters
5 * Rankenstein 4 * Mangelez 3 * Compost Monster 2 * Germit 1 * Trashola (Favorite Team) Excluseive 3 * Wasted Banana 2 * Spew-Shi 1 * Skummy Skull
Limited Edition
I like all of them.
FAVORITES OF SERIES 1
5 * Puke Pod 4 * Grott Dog 3 * Scummy Screen 2 * Flu Virus
1 * TRASHOLA!
SERIES 2!
Favorites,
Sore Berry
Garbo Martian
Zapper
Sludge Slug
Alley Gator
Grotty Fruity
Trash Bag Goblin
Space Waste
Alley Alien
Trash Craft
Ear Wax Ball
Gutter Grub
Slime Bucket
Atomic Ant
Molecular Mouse
Mouldy Mushroom
SERIES 3
Favorites,
Maggot Meatball
Cacky Cake
Shockoli
Gunk Pumpkin
Rotten Roll
Cringe Chili
Sticky Pop
Broken Blender
Grot Pot
Foul Fish Bowl
Junk Mail
Feral Fly
Pesty Parasite
Grotty Bot Fly
Waste Worm
Slime Python
Piggy Pigeon
Gobbles
Skabby Shark
Bin Brute
Spewster
Ooze Ogre
Poop Monster
Pus Plop
Bin Bros
Junkosaur
Gas Ghost (I Love All of the Bin Monsters .)
Burpy Slurpy
Poo-tato Chips
Grotty Coffee
Sickly Sweets
Trash Cash
Grimy Gold
Junk Jewellery
Waste Paper
Crushed Can
SERIES 4
Favorites,
Boiled Brains
Shabby Cabbage
Moldy Melon
Pear Beware
Poo-Tato
Lumpy Yoghurt
Moldy Matress
Smashed Vase
Filthy Fan
Slimo Beetle
Oozey Noodles
Sneeze Burger
Spewy Stew
Gross Goulash
Cruddy Curry
Gooey Souvlaki
Buried Burrito
Snot Snail
Banged-Up-Gamer
Yuck Yo
Mucky Ducky
Clammy
Stale Scales
Scar Fish
Tangled Seaweed
Dirty Hermy
Squish Bone
Festering Fowl
Stink Sink
Bin Goo
Clump Of Grass
FAVORITE TRASHIE!
HORRID HAGGIS!
Paint Skillz 1-50