Trash Wheels are a spin-off series of The Trash Pack. Their 'slogan' is "They're Wheely Gross!"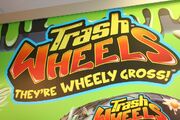 They are called Trash Wheelies and they are made out of rubber. There are 75 to collect, and there are 4 known playsets as of right now. Vehicles come in packs of 2 and 4, the 4th Trash Wheel is a mystery one. It says you can "Pick 'em up!", "Crush 'em!", and "Wreck and Recycle!" As seen in a video, they also have different colors of the same Trash Wheel Characters.
Trash Wheels can be found in very few Targets and TRU stores in the USA.
Products
4 Pack (3 Visible Trash Wheels, 1 Secret Trash Wheel)
2 Pack (2 Visible Trash Wheels)
Muck Mover (1 Muck Mover Truck, 1 exclusive Trash Wheel)
Gas 'N Go (1 Playset, 2 exclusive Trash Wheels)
Junkyard (1 Playset, 2 exclusive Trash Wheels) 
Burger Flip Out (1 Playset, 2 exclusive Trash Wheels)
2 PACK COLLECTION
The gross gang is on the move with the latest instalment to The Trash Pack line, Trash Wheels! Kids will have a 'wheely' gross time racing their Trash Wheels vehicles for a totally rancid Trash Pack showdown. This 2 pack contains 2 super gross Wheelies and a Collector's Guide.
4 PACK COLLECTION
The Trash Wheels 4-Pack makes it easy for kids to add to their gross collection. Kids will find four Trash Wheelies and a Collector's Guide lurking in this pack to help them identify which Trash Wheelies are theirs. But which wheely gross character will be hiding in the secret compartment of your pack? There are over 83 vehicles to collect with rare finishes including Metallic and all new teams including Litter Buggies, Army Junk, Skid Markz, Rust Buckets and more!
Trash Wheels Teams:
Army Junk :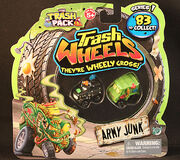 Pooper Trooper
Litter Launcher
Rank Tank
Grot Snot
The Detonater 
General Jeep
Take Away :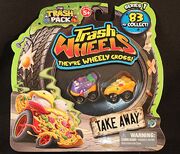 Banana Split
Hot Rod Dog
Burger Buggy

Donutz

Pizza Delivery

French Flies
Litter Buggies :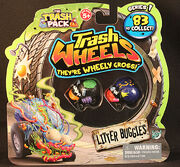 Creepy Cruiser
Spider Driver
Lady Buggy
Driver Spider
Road Roach
Fast Flea
Muck Trucks :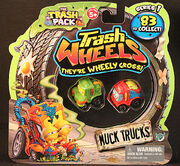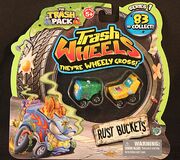 Sweeper
Dumper
Trash Masher
T-Ractor
Muck Monster
Scum Van
Skid Marks :
Brush Buggy
Filthy Flusher
Alley Gator
S-Bend
Limited Edition
Flat Rat: 500
Slimy Steak: 5000
Blubber Brain: 10'000
S-Car-Go: 1000
Exclusive
Shake N' Brake (Burger Flip Out)
Cruddy Crepe (Burger Flip Out)
Slicker (Gas N' Go)
Go Gas (Gas N' Go)
Splattered Fly (Muck Mover)
Cruddy Cop Car (Junkyard)
Toe Nail Truck (Junkyard)
Gallery
Trivia
This is the second Sub-Series to be released; The first being UFT.
This is the second Trash Pack product line involving vehicles. The First being Scrap Racers.
The characters, concept, and playsets look very similar to the short lived Mad Wheelz toy line from 2003.
Trash Wheels made their first public appearance on Target.com, where they were removed the day after.
Community content is available under
CC-BY-SA
unless otherwise noted.