Toilet Bug is a common Household Germs Trashie from Series 7.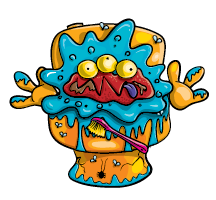 Appearance
Toilet Bug is a germ coming out of a dirty toilet.
Bio
One of the stinkiest and yuckiest Trashies in Trash Town is Toilet Bug. Covered in bits of you know what, he's so gross that he's body is starting to rot!
Gallery