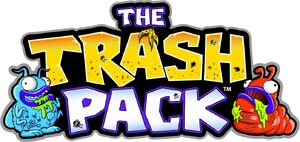 Welcome to the Trash Pack Wiki, your Trash Pack resource!
Welcome!
First of all, if you want to ask specific questions, trade with other friendly collectors, sell your collection, talk with other trash pack enthusiasts, and much more then make sure to join the Trash Pack discord server!

The gross place for the gross gang in your garbage! This wiki is the #1 site for anything and everything about The Trash Pack that anyone can edit, including you! In our pages, you will find detailed information about every Trashie from every series, as well as playsets, trading cards, accessories, and much more! We even have inside info about unreleased trashies and all sorts of news and mysteries! Take a look at our hundreds of pages and uncover your forgotten Trash Pack nostalgia!

If you want anything then seriously don't hesitate to stop by the Trashlands discord server mentioned earlier and say hello :)

Want to create a Trashie or series? Go to our sub-wiki, The Trash Pack Fan Wiki!
Other Wikis