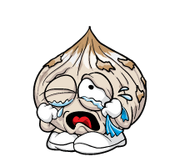 Smelly Onion
is a
Series 3
Trashie who is a part of
The Grubz
team. He is an onion who is crying (because in real life, onions make you cry) and wiping his eye with a tissue. He seems to be rotten/expired/spoiled.
General Information
Finish: Classic
Colors, Numbers And Rarity: Brown (#361, Common) Blue (#380, Rare) Yellow (#384, Ultra Rare)
Biography
You don't need to cut this onion to make yourself cry. Just one look at Smelly onion is enough to get the tears flowing. He stinks that much that even Skunks hold their nose!
Trading Card Line
"Start the recipe with some freshly chopped trash!"
Trivia
He and Sick Garlic's Rare variant have pictures that look almost exactly the same.
Gallery