Series 5 was the fifth ever series of Trash Pack toys (sixth if UFT is counted) that was released in May 2013 (in AU) and September 2013 (in USA), the same month the Design Your Own Trashie Comp ended. It replaces the Wheelie Bins with yellow toilets. The Trashies in this series are called Sewer Trash, for the fact that the trashies are mainly found in toilets. Frozen Trash are the special edition, which are trashies concealed in clear, rubber cubes and unlike other special editions they also get their own category. The Ultra Rares are Scrap Trash which are decorated with flakes of colours. The logo is a stink cloud. New teams, School Trash and Sewer Trash, replace Hard Rubbish and Trash Toys. The Liquid Ooze pack returns, but this time with yellow ooze to represent pee.
Trashies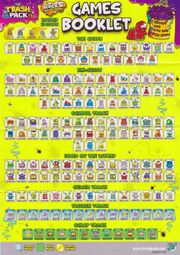 Trivia
This is the first Series to have a subname (Sewer Trash)
This is the first series to have toilets.
This is also the first Series to exclude the Hard Rubbish team.
School and Sewer Trash are exclusive to this Series.
Special Editions are now all in one team. In previous series, there was one Special Edition character in each team (Excluding Bin Critters in Series 2, and Ultra Rare teams in Series 1-3)
The toilets were remolded in white for Series 4 of The Grossery Gang.