Series 3 is the third series of .The Trash Pack and was released in Fall 2012.
Collector's Wheelie Bin
Trading Cards (Collection 1)
Junk Truck
It appears to have a city vibe to it.
The Grubz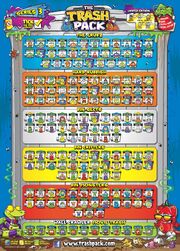 Hard Rubbish
Bin Critters
Bin Sects
Bin Monsters
Wall Crawlers and Movie Trash
Limited Edition
Trivia
This is the first series to have five limited edition Trashies instead of three.
This is the first series to have the Liquid Ooze Pack, which has 6 Trashies inside.
5 out of 6 of the Movie Trashies could easily placed under The Grubz category. The only one who couldn't is Trashy Torch .
There was going to be a new packaging with a wheel on the side, but this was scrapped. This idea was made in Series 4.
Collection 1 of The Trash Pack Trading Cards was based on Series 3 characters.
Wave 2 Characters could be found on Trading Card Packs weeks before official release.
This is the final series that came with Trash Cans since Series 4 comes with red wheelie bins.
This is the final series to have Bin Critters and Bin Monsters . They were replaced with Food Of The World , and Trash Toys .
The Gross Zombies series was repainted from series 3