Series 3 is the third series of .The Trash Pack and was released in Fall 2012.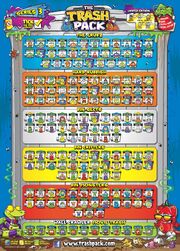 The trash cans are blue. The playsets released with it are:
Collector's Wheelie Bin
Trading Cards (Collection 1)
Junk Truck
It appears to have a city vibe to it.
The Grubz
Hard Rubbish
Bin Critters
Bin Sects
Bin Monsters
Wall Crawling Movie Trash
Limited Edition
Community content is available under
CC-BY-SA
unless otherwise noted.