m

Tags:

apiedit

,

Visual edit

Tags:

apiedit

,

Visual edit

Line 127:
Line 127:
 

==='''[[Exclusives]]:'''===

 

==='''[[Exclusives]]:'''===

 

*[[Garbage Truck|Dead Tyre]] (Dark Blue)

 

*[[Garbage Truck|Dead Tyre]] (Dark Blue)

−

*[[Garbage Truck|Sludge Can]] (Dark Blue)

+

*[[Sludge Can]](Dark Blue)

 

*[[Spew Shi|Spew-Shi]] (White)

 

*[[Spew Shi|Spew-Shi]] (White)

 

*[[Skummy skull|Scummy Skull]] (White)

 

*[[Skummy skull|Scummy Skull]] (White)
---
Revision as of 23:14, 13 September 2016
Series 1 is the first series of the trash pack It was released around September of 2011 in the U.S. and Australia. There are 166 Trashies to collect in Series 1. The Special edition trashies were glow in the dark. The ultra rare trashie team for series 1 is the Bin-Fections, which are see through trashies. There are 3 limited edition trashies to collect as well. The trash cans for series 1 are green.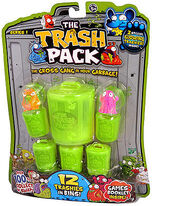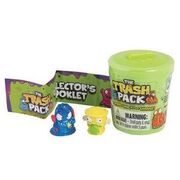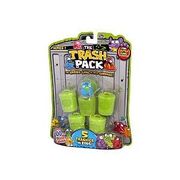 Products
Trash Can 2 Pack: Includes one large can with two Trashies inside.
Foil Bag 1 Pack:Includes 1 Trashie and 1 small can.
Foil Bag 2 Pack: Includes 2 Trashies and 2 small can.
Trash Pack 3 Pack Fizz Pack: Includes 3 trashies; only available in Europe.
5 Pack: Includes 5 trashies with 5 small cans.
12 Pack: Includes 12 trashies, 1 extra large can, and 5 small cans. Every 12 pack comes with two special edition glowing trashies.
Garbage Truck: Includes 2 exclusive trashies and 2 small cans. The truck can store cans and fold out into a play set, and comes with a wheelie bin launcher.
Collector's Case: Includes 2 exclusive trashies. It can store 1 of each series 1 trashie.
Collector's Tin: Includes 2 exclusive trashies and 2 small cans. It can store many small cans and/or trashies inside.
Trashies
There are a total of 166 trashies in series 1. Click on the trashie's names for a more in depth look at each of them!
​Bin-Fections

:
Limited Editions

:
Trivia