Jurassic World: Dominion Dominates Fandom Wikis - The Loop
Play Sound
Series 1 was released in the September of 2011 in the US, Australia and Europe. It had its trashies stored in green garbage cans. Its special edition figures had a glow in the dark effect, while its ultra rare specific category, the Bin Fections were see-through and sported a blue and yellow color scheme. Unlike the other series, Series 1 didn't really have a "theme", probably because The Trash Pack was new back then in 2009, and Moose was just starting making this toy brand, making it just random Trashies.
Categories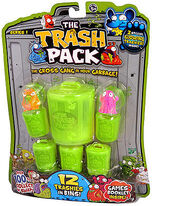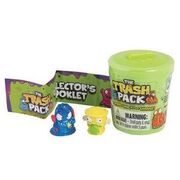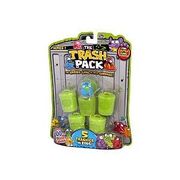 Trashies
There are a total of 166 trashies in series 1.
Gross Ghost Scum Gum
Gross Ghost Smelly Sock
Gross Ghost Snotten
Gross Ghost Bin Pig
Gross Ghost Germ Worm
Products
Trash Can 2 Pack: Includes one large can with two Trashies inside.
Foil Bag 1 Pack:Includes 1 Trashie and 1 small can.
Foil Bag 2 Pack: Includes 2 Trashies and 2 small can.
Trash Pack 3 Pack Fizz Pack: Includes 3 trashies; only available in Europe.
5 Pack: Includes 5 trashies with 5 small cans.
12 Pack: Includes 12 trashies, 1 extra large can, and 5 small cans. Every 12 pack comes with two special edition glowing trashies.
Garbage Truck: Includes 2 exclusive trashies and 2 small cans. The truck can store cans and fold out into a play set, and comes with a wheelie bin launcher.
Collector's Case: Includes 2 exclusive trashies. It can store 1 of each series 1 trashie.
Collector's Tin: Includes 2 exclusive trashies and 2 small cans. It can store many small cans and/or trashies inside.
Trivia
There was going to be an Ice Cream Trashie in the series, but was scrapped for unknown reasons. He could be seen at the beginning of the Mondo TV Trash Pack Cartoon.
In the Mondo TV cartoon, Trashola and a trash rim were in the logo in the place of Blow Fly and Trash-A-Pillar.
This was the only series to have see-through bins.
All pink Trashies are Ultra Rare in this series.
There was a spin off series called Gross Ghosts that has the same trashies in shiny, traslucent colours that is released for Target only. This implies that the Series 1 characters have "died".
There was a second version of the Series 1 commercial. It had different narration, different footage and angles, and the Trash Pack theme was also sung differently. As of December 2021, this version of the commercial has been lost to time, as its original source, being the Trash Pack Facebook page, had anything related to the brand being removed and replaced with other Moose related forms of media.
While Limited Editions were in the series, they were not on the checklist, cardback, OR collector's guide.