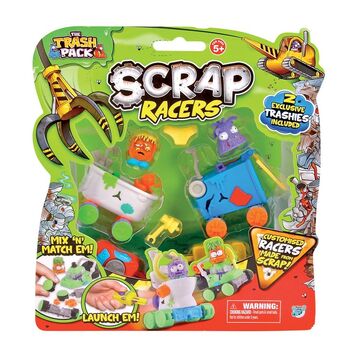 Scrap Racers is a line of racing trashies that is a spin-off of The Trash Pack. It is Australian exclusive. You can customize your vehicle and put the parts on other Scrap Racers.
Products
Trashie And Vehicle 2 Pack: (Only according to pictures, not official name) Picture ->
Vehicles
Stinkin' Toilet
Barf Boot
Slower Mower
Mouldy Milk Carton
Broken Bath-tub
Oozey Wheelie Bin
Trashies
Dunny Brush
Smelly Sock
Clump of Grass
Cow Pat
Slimy Soap
Bin Goo
Trivia
Smelly Sock is an exclusive trashie as well as a Series 1 trashie.
This product was only released in Australia (and UK, to a lesser extent), and will not be released anywhere else for unknown reasons.