Line 5:
Line 5:
 

Nobody knows what's underneath this Trashie's bandages but everyone agrees it will be seriously sick! There's so much pus and ooze leaking out that perhaps there's nothing but liquid grossness in there?

 

Nobody knows what's underneath this Trashie's bandages but everyone agrees it will be seriously sick! There's so much pus and ooze leaking out that perhaps there's nothing but liquid grossness in there?

 
 
−

==Section heading==

+

====

 
 
 
+

*In his toy, he seems to have a spiky ball inside of him.

−

Write the second section of your page here.

 
 

[[Category:X-ray]]

 

[[Category:X-ray]]

 

[[Category:Series 7]]

 

[[Category:Series 7]]
---
Revision as of 12:13, 8 April 2017
Scabby Bandage is an ultra rare X-Ray Trashie from Series 7. He is a mysterious bandage creature wrapped up like a mummy.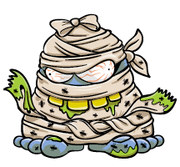 Bio
Nobody knows what's underneath this Trashie's bandages but everyone agrees it will be seriously sick! There's so much pus and ooze leaking out that perhaps there's nothing but liquid grossness in there?
Trivia
In his toy, he seems to have a spiky ball inside of him.