S-Car-Go

'

Series:

Trash Wheels, Series 1

Team:

Limited Edtion

Colours & Rarities:

Green (Limited Edition)

Finish:

Metallic

Wave

1

Available In:

Trash Wheels 2 or 4 Pack

Units Available

1000

Number

TW #76
S-Car-Go is a Limited Edition Trashie in Series 1 of Trash Wheels. He is a slimy snail on wheels.
Bio
The only thing that makes this wheelie go is the fuel of a 5 month old dog's breakfast. This slimy wheelie slides side to side on the cracked roads with his grimy wheels.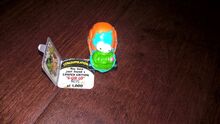 Trivia
His name is based off the French dish Escargot.

It might also be based on the well-known joke, "Once there was a snail who was tired of being slow. He went out and bought a really fast sports car and had the dealer paint a big 'S' on each side of it. Whenever someone saw him zooming past in his new car, they would say, 'Hey, look at that S-car go!'"