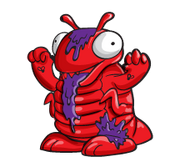 Rancid Roach is in in the Bin-Sects team in Series 1. He is a disgusting cockroach.
Bio
"You have to be quick to spot Rancid Roach - he's one of the fastest Trashies in Trash Town. He scurries through the garbage so fast that sometimes all you see is a germy blur of bacteria and filth!"
Trash Town Hangout
"Underneath bins and barrels."
Trivia
He is the first cockroach Trashie.
Gallery