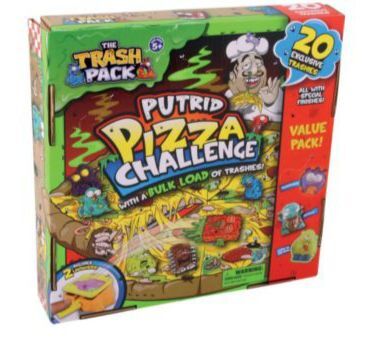 Up to four food fighting games to play either by yourself or with others (The instructions on how to play these are in the box).
Try to get up to 100 points by launching Trashies into the box with 'Pizza Point Pile-up'; or get as many Trashies as you can in your selected pizza slice with the 'Pig Out' game - choose your position carefully in the ,'Supreme Slice Circuit'.
Includes a Putrid Pizza box, 20 exclusive series 4 variant Trashies, and 2 launchers (Same 2 Launchers From The Scum Drum).It is alike the scum drum..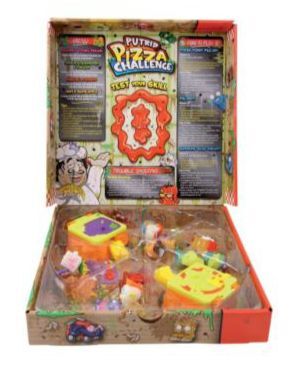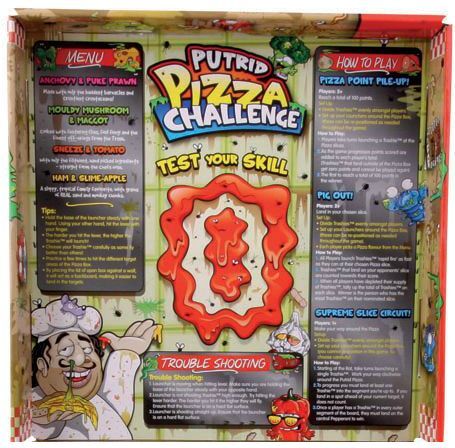 Colours
Transparent
Horrid Haggis (purple, blush, yellow).
Oozey Noodles (purple, blush, yellow).
Shocking Horse (purple, blush, yellow)
Creepy Pede (purple, blush, yellow).
Vile Vacuum (purple, blush, yellow)
Grim ribs (purple, blush, yellow)
Metallic
Banged Up Gamer (purple, red, green)
Scarred Caviar (purple, red, green)
Gristle Pie (purple, red, green)
Stuffed Chicken (purple, red, green)
Smear Wig (purple, red, green)
Fishy Finger (purple, red, green)
GITD
Barf Baguette (white, orange, yellow)
Zapped Lamp (white, orange, yellow)
Poo-Tato (white, orange, yellow)
Sneeze Burger (white, orange, yellow)
Yuck Yo (white, orange, yellow)
Sludgey Lasagne (white, orange, yellow)