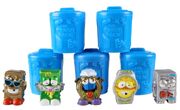 Limited Editions are Trashies, Trash Wheels, or Trash Pack trading cards that only have a limited number of units made making them extremely rare and usually very valuable. 
Overview
 Limited editions are the chase figures of The Trash Pack, Trash Wheels, and Trash Pack trading cards and were made by Moose, an Australian toy company, from 2011-2013. The limited editions from series 1 are not pictured on the small folded pamphlet but for every other series of Trash Pack and Trash Wheels, the limited editions are pictured on the collectors pamphlet that comes in a pack along with the Trashies or Trash Wheels.
Distribution
There are 3 limited editions in series 1 and 2. In series 6 and the Trash Wheels series, there are 4 limited editions. There are 5 limited editions in series 3, 4, 5, 7, and Trash Pack cards collection 1 and 2. Limited editions' rarity can be 10,000 numbered, 5,000 numbered, 1,000 numbered, 500 numbered, and 250 numbered. The rarest limited editions are Grimy Gold, Squish Bone, Poop Plop, Scrambled Rat, and Captain Contagious from Trash pack; Grimy Gold and Squish Bone from the trading card collections; and Stinkin' Soda and Ghost Trash turtle from Trash Wheels. All of these have 250 units that were numbered. I prefer saying "ever numbered" rather than "ever made" due to the fact that Moose makes many prototypes of each limited edition. Some of the prototypes are slightly different colors and some are identical to the released and numbered versions but the prototypes were never numbered, only the units that made it to packs and got released to the public were numbered (more on that topic later).
Appearance
Series 1 limited editions are shiny/glossy, series 2, 3, 5, and 6 limited editions are metallic, series 4 trash pack limited editions and series 2 trash wheels limited editions are glow in the dark, series 7 limited editions are green, translucent, and sticky, series 1 trash wheels limited editions don't have a specific look, series 3 trash wheels limited editions are transparent, Trash Pack trading cards collection 1 are metallic, and Trash pack trading cards collection 2 have metallic speckles all over them.
Numbering
All limited editions have their exact number printed somewhere on them, typically somewhere out of sight from the front view. On series one Trash Pack limited editions and Trash Pack trading card limited editions, the number will be a fraction, for example, on a Trash Cat there could be small black printing on the bottom stating: 1234/10000. Although this is the format for series 1 limited editions, all of the other series have just the specific number and lack the part stating: /(the total number made of said limited edition)...for example, on a Sick Toc, there could be small black printing (in his case on the top of the watch band) stating simply: 3478....and the receiver of the Limited Edition is expected to know or find out, his or her self, the total amount of units that were numbered. Unfortunately, the ink that was used for numbering series 1-3 Trash Pack limited editions (especially on series 1) is easily worn off. As a result, those limited editions are often seen without numbers. In some cases however, the lack of numbers on limited editions is not just the result of surface wear; on other limited editions, most commonly Scrambled Rat and all series 7 limited editions, the lack of a number is due to people in China that, one way or another, obtained access to the unnumbered prototypes for the limited editions which were not intended to be publicly released.
Certificates
Limited editions also come with a small, thin, cardboard certificate that folds like a pamphlet. On one side it includes original artwork of the limited edition that was found. On the other side, there is text stating: CONGRATULATIONS! YOU HAVE JUST FOUND A LIMITED EDITION "(the name of whichever limited edition that was found)" (the exact number of the limited edition that was found that corresponds to the number printed in black ink on the unit itself) of (the total amount of units that were numbered of the limited edition character that was found).... for example, one could say: CONGRATULATIONS! YOU HAVE JUST FOUND A LIMITED EDITION "KING RAT" 0013 OF 1000.
Mystery
For many limited editions, there are still not any known pictures of the certificate or in some cases, the figure itself. Please, if you have or know where to find a picture of any of the items listed below, send me a message ASAP! It would be tremendously appreciated.
Individual Info
Trash Pack
Trading Cards
Trash Wheels
Limited Edition Team Bio
If it's royally covered in snot, you've probably got your self a limited edition! They live anywhere that muck grows! If you find a limited edition, you've completed the Trash Pack mission!
Other Bio:
"If it's super gross and more disgusting than most then it's probably a Limited Edition Trashie! These ultra rare Trashies are always covered in grott making them very hard to spot!"
Trivia:
The Series 1 limited editions are not quite metallic, they are kind of just shiny/glossy.
The limited edition from series 5 that looks like a silver twisted pipe is labeled as Poo Plumbing on the collectors pamphlet, but it is labeled as Poop Plumbing on the certificate. Is he Poo or Poop Plumbing? You decide.
Although it is not confirmed, there is a rumor that a mere 10% of the total amount that was made for each limited edition was distributed to United States.
Community content is available under
CC-BY-SA
unless otherwise noted.