This line of Trashies was only released in Nestle boxes of 2 ice creams from Israel. In the pack there will be 4 series 1 and 2 trashies and they have a chance of being exclusive colorarions. There is one picture of the packaging they came in. This also might have been The Trash Pack's only food promotion.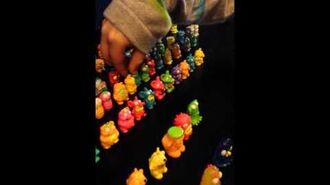 Known Characters (Colors)
Putrid Pizza Green,Purple,Orange
Foul Nugget Grey,Red,Yellow
Grott Dog Pink
Slop Corn Grey
Awful Pie Green,Orange,Purple
Noxious Bee Grey,Red
Rancid Roach Orange,Green
Gross Rover Red,Grey
Scabby Cat Orange,Purple
Waste Wolf Orange
(extended list ⬇️)

Putrid Pizza (green)
Putrid Pizza (pink)
Putrid Pizza (orange)
Foul Nugget (grey)
Foul Nugget (red)
Foul Nugget (yellow purple feet)
Slop Corn (grey)
Slop Corn (green)
Bin Scab Beetle (yellowy green dark green slime)
Grott Dog (pink)
Grott Dog (grey)
Grott Dog (yellow red feet)
Grott Dog (red)
Grott Dog (black)
Puke Pod (orange)
Rancid Roach (orange)
Rancid Roach (green)
Gross Rover (red)
Gross Rover (grey)
Gross Rover (green)
Scabby Cat (orange)
Scabby Cat (purple)
Scabby Cat (pink)
Waste Wolf (orange)
Waste Wolf (green)
Rotten Apple (grey)
Rotten Apple (red stem)
Noxious Bee (red)
Noxious Bee (grey)
Awful Pie (green)
Awful Pie (purple)
Awful Pie (orange)
(Series 2)
Sludge Slug (dark purple, bright green base)


Community content is available under
CC-BY-SA
unless otherwise noted.