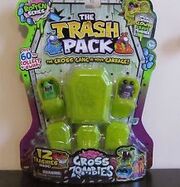 Gross Zombies is the third rerelease series, and the fourteenth series overall.
The figures of the classic Series 3 have been zombified with black eyes and darker tones. The Special Editions are Glow in the Dark Glowin' Grave Trashies, with 'blood' splattered over them. The Ultra Rare Trashies are the Special Edition Trashies of the original Series 3 , with the feel of Series 2's mouldy Trashies. The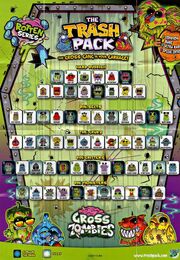 Trashies come in green translucent coffins.
Trashies:
Products
Trivia
These were the replacements of Gross Ghosts.
Unlike Gross Ghosts 1 and 2, this series uses all new containers. GG used the original trash cans.
Community content is available under
CC-BY-SA
unless otherwise noted.