Fridge Fungus is a special edition Cold N Flu Colour Change Trashie from Series 7.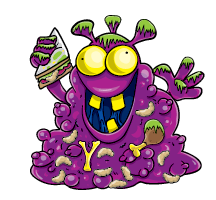 Appearance
Fridge Fungus is a smiling germ with 3 teeth that is holding a sandwich.
Bio
Fridge Fungus is one of the happiest Trashies in Trash Town, he got locked in a fridge years ago and has been slowly (and joyfully) eating all the rotting food in there!
Gallery
Trivia
Unlike his official artwork and figure, Fridge Fungus's static art shows him with only one tooth, instead of three
.