Flip 'n Filth is a game created by Pressman Games, who also designed the Dash for Trash game.  
Includes 4 exclusive Trashies: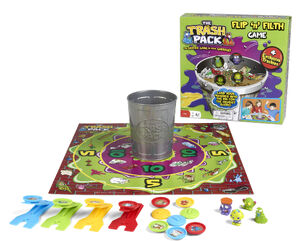 Trivia
Flip 'n Filth was not the original name but that's what Moose wanted to call it.
Game Objective
" This game uses a larger garbage can and players get those catapults that are at the corners of the game board. the object is to flip small garbage can lids--of your own color--into the can for the most points, or different parts of the game board for fewer points."
| | |
| --- | --- |
| | Pressman The Trash Pack Flip and Filth Game Toy fair 2013 |
| | |