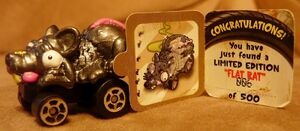 Flat Rat is a Limited Edition in the Trash Wheels line. He is a rat that's been run over. He bears a striking resemblance to Trash Cat from series 1 of Trash Pack.
Number available 500
Bio
Driving disease from down in your gutter. His engines are sure to give you a cough and splutter He's the dented rodent full of festering fumes the vile vermin of vroom, zoom and hoon!