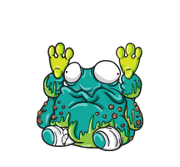 Filthy Frog Legs is a Series 5 Food Of The World team. He is a disgusting, slime-covered, frog with his legs chomped off as he carries them, with his leg stumps bandaged.
Bio
"These filthy frog legs are anything but a French delicacy! Super slimy and mostly moldy, one touch of these legs will cause disgusting warts all over your fingers!"
Trash Town Hangout
"Feral French Inspired Restaurants"
Trashie Rating
Colors: Green #830 (Rare), Orange #8585 (Rare), Chartreuse #839 (Rare)
Trivia
Real frog legs don't have their top half, they have only their bottom half, including their pelvis area.
Gallery