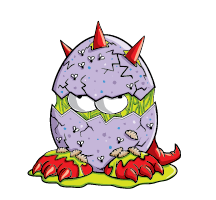 Egg-O-Saur is a series 6 Trashie from the Eggstinct Trash team. He is a disgusting baby dino inside an egg shell.
Bio
"This is one really bad egg, Egg-O-Saur is one of the meanest, greenest, scariest Trashies there is…at least he would be scary if he ever came out of his shell…"
Trash Town Hangout
Nasty Nests
Trashie Rating
Colors: White, Common, Teal, Common, Purple, Common.
Trivia
He is similar to Garbage Egg, from Series 1's The Grubz team.
A Trashie that looks similar to Egg-O-Saur appeared in the coming soon teaser of series 6.