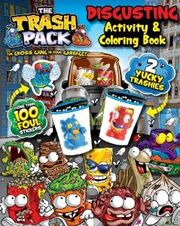 This disgusting activity and coloring book features all of kids' favorite Trash Pack characters! This book features games, puzzles, and over 100 totally gross stickers for hours of Trashy fun. It comes with two yucky Trashies to collect!
Product Details
Paperback: 48 pages
Publisher: Parragon Books (February 15, 2013)
Language: English
ISBN-10: 1472304713
ISBN-13: 978-1472304711
Product Dimensions: 10.4 x 8.3 x 0.3 inches
Trivia
Even though there are Series 1 trashies on the image above, the actual book comes with Series 3 trashies.
Instead of the green plastic bins on the front, there is now blue bins to match Series 3.
Many of the activities are the same, just with Series 3 characters instead.
On the 'Design a Trashie' page, there is now room for a name, team, and Bio.
This is the first sticker book to include LE stickers.
The front cover has an orange Burpy Slurpy depicted on it, which may have been an error.