The Crash N' Wreck Junkyard is as it's name suggests, a Junkyard that's a "WRECK". It cost $25.
Toe Nail Truck and Cruddy Cop Car and a compacted vehicle are exclusive to this set.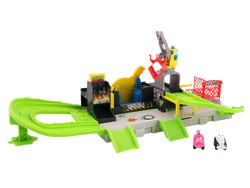 The Trash Wheels Junk Yard playset is the only place to wreck and repair the Trash Wheels! Whether they need a new engine or are ready to go to the scrap heap, the Junk Yard is the place to go. With one playset, three exclusive Trash Wheels vehicles and a collector's guide, kids will have everything they need to wreck & repair their Trash Wheels. Just watch out for that crusher - or you'll get smashed!