Clogged-up. Calculator is a Series 5 ST from the School Trash team.He is A Calulator with his buttons falling out and his eyes poping out.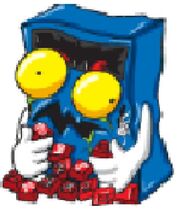 Trashie Rating
colors: Yellow Rare, Green Rare, Orange Rare.
Bio
The School Trash is not featured on thetrashpack.com.
Trivia
He could have had a glitch and got thrown out for being useless, or he could have had his batteries rot inside of him, they most likely were the trashie Zapper.
Gallery