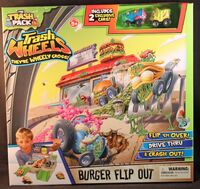 Burger Flip Out is a playset in the Trash Wheels line. It is a disgusting burger shack and the Trash Wheels cars can ride around the course. It is one of the four Trash Wheels Playsets. Includes two exclusive Trash Wheelies: Cruddy Crepe and Shake N' Break. 
Cost: $15 USD
In The Trash Pack Cartoon
In the episode "A Side Of Flies", Blow Fly and Trash-A-Pillar get jobs at the Burger Flip Out. They sell old, rotten hamburgers. Trash-A-Pillar is the restaurant's best employee. It is unknown if the two still work there.
Gallery
See Also