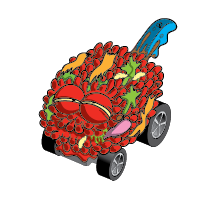 Brush Buggy Is A Boggy, Disgusting, Broken, Poo Covered Brush, Like The Ones You Find In Gross Gas Station Bathrooms.
Bio
"Smelling of old stew and full of gross bits, this is one boggy brush that you don't want to touch! The bristles are so full of gunk and muck that to see it's true colour you'd need a lot of luck!"
Trash Town Hangout
Skid Mark Street
Team
Trivia
He Is Similar To Dunny Brush, In Fact, The Only Big Difference Is: Dunny Brush Is A Regular Trashie, Brush Buggy Is A Trash Wheelie.