Blubber Brain is a Trash Wheels Series 1 Limited Edition. His number is TW#75. There are 10,000 of him made. He is a nerdy brain on wheels with buck teeth like a nerd.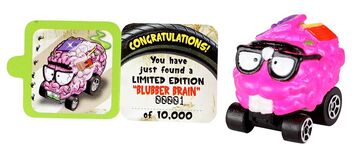 Bio
This Blubber Brain will spew gross facts at you. He knows everything to do with boogers, vomit and poo. But being a know it all means he can be annoying too!
Trivia:
He is the second Trashie related to brains, the first was Boiled Brains.
He has a mortarboard (graduation cap) on his head. He also has a calculator and pencil stuck to him.