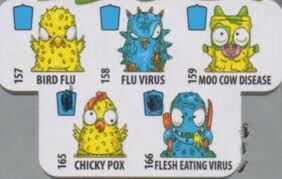 The Binfections are a group of Trashies exclusive to Series 1. The Trashies in this group are based on viruses like the flu.
Each Binfection comes in two colors and are the only translucent Trashies. All of these Trashies are Ultra Rare.
It was replaced by Astro Trash in Series 2, which was replaced by Movie Trash in Series 3.
Description
They're spreading disease with ease! Bin Fections are vile viruses and nasty infections that have formed in the booger piles and mold mountains of Trash Town!
Trashies
Trivia