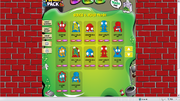 Beach Trashies are the Ultra Rare group for Series 4. They replace Movie Trash from Series 3, but were replaced by Scrap Trash in Series 5 Sewer Trash. They are sandy and sparkly and come in the colours red and aqua.
Trashies:
Trivia:
Beach Trash Team:

If it's covered in sand, is soggy and stinks then you've got yourself a Beach Trash! These Trashies have been out in the sun and surf for far too long and all smell like moldy seaweed and rotting fish! If you stumble across one on the beach, best to run in the other direction...fast!
Gallery
Community content is available under
CC-BY-SA
unless otherwise noted.