Astro Trash (AKA Space Junk) is the Series 2 line of Ultra Rares that replaced Series 1 Bin-Fections. The Astro trash are replaced by Series 3 Movie Trash. Unlike Series 1, there are 6 ultra rares instead of 5.
The Astro Trash are small metallic trashies from outer space. They come in the colours: Red and dark blue. The limited editions in Series 2 are also like Astro Trash, except in gold, silver and bronze: Grott Rocket, Trash Craft and Trashellite. In Wave 1, they are more cosmo than metallic, but it became metallic in Wave Two.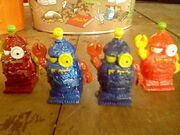 Trashies:
Description
Landing in a bin near you - Astro Trash have come from a far away Garbage Galaxy to gross up your neighborhood! These shiny bits of space junk are out of this world!